I love online shopping. Well, I'd rather go to the store, but I obviously cannot at the moment. My mom and dad gave me a present today: 100 bones to shop online for whatever I want. Wanna see what I bought???
First thing: a new swimmie. Jeff and I went to Six Flags and walked around the waterpark in our skibbies and I was horrified at the feeling of nakedness in my bikini and just wanted to cover up... quickly. I thought this was very cute and reasonable.
This bag is from
Target
. I've had my eye on it for several months and then saw it online today for 8 BUCKS! Score!
This rug rocks! We could use a bigger one for the sunroom for when the doggies track in muddy-ness.
One red plate from
UO
. I know it sounds silly, but I am going to start collecting red plates for my kitchen because i've broken most of mine... mixing and matching means I won't have to worry about replacing the whole set!
From
CB2
I got those teardrop hanging vases I showed pics of in a previous post, a new bathmat (exciting I know), and this cool planter on sale. (the green striped one)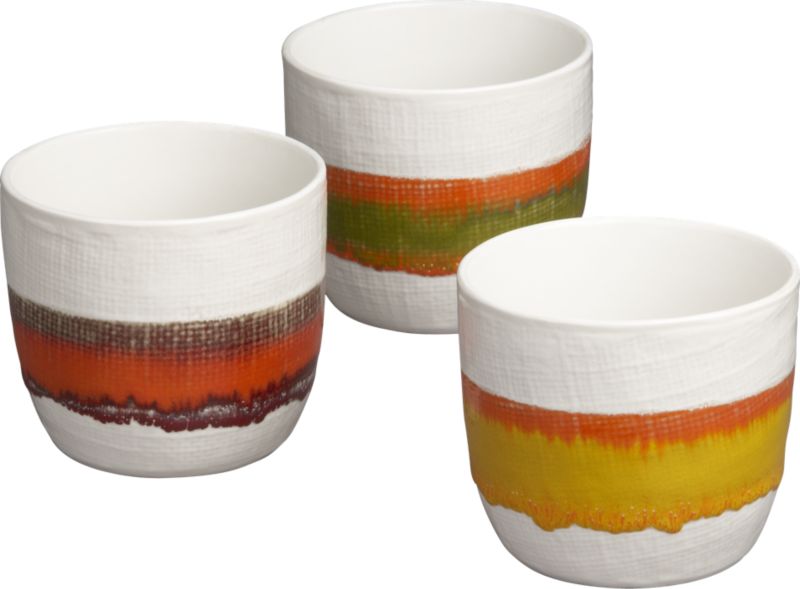 There are more things like clothes, but if I went through everything you'd get bored fast.
I'm glad this has kept me a bit sane today since my sister and amazing friends all went to KC to see Feist. I had a ticket but ended up selling it to another friend so she could go in my place. They went to church today, ate at First Watch (a GREAT brunch spot), went shopping, and then saw Feist at the Starlight. I was really sad to miss out, but had the shopping to distract me which was nice. My mom came over for most of the afternoon too which was great. We had some great conversations and she did some of my housework for me, like sweep the ridiculous amounts of grass off my sidewalk and patio from when Jeff mowed yesterday.
Anyway, So far it seems like I'm inching my way to getting better, but I'm not nearly there yet. We timed how long I was able to be up today and I topped off at 13 minutes. Pretty exciting. It hurt like hell getting back into bed after that though.